About ten years after its foundation, Silcona GmbH & CO. KG has developed to one of the leading European suppliers for high performance additives in the field of environmental friendly coatings by the SILCO brand. We supply our products currently in more than 50 different countries on all five continents.


Our company is manufacturing all products in a DIN EN ISO 9001:2000 and 14001 certified state of the art facility using mainly raw materials that are environmentally and physiologically harmless.

The focus is on additives for applications like graphic arts, decorative paints and industrial coatings. Most of our products are VOC-free, APEO-free, formaldehyde-free, heavy-metal-free and amine-free.

Moreover we offer special grades fulfilling the requirements for lots of different food contact approvals like FDA 175.300, BfR XIV and XXXVI, Swiss Ordinance, European food and plastics directive, RoHS and much more.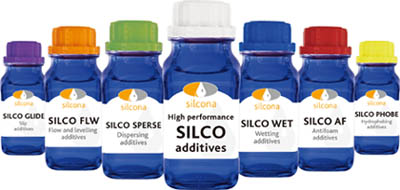 Silcona is serving the coatings and graphic arts industries with a cornucopia of tailor made and highly efficient additives by the following product groups:
SILCO SPERSE
APEO-free high performance dispersants for waterbased and solventbased paint, ink and coating systems


SILCO GLIDE
high molecular silicone based slip additives


SILCO OZ
APEO- and VOC-free additives as open time extender for lacquers and paints


SILCO FLW
flow and levelling agents for various coating applications


SILCO WET
wetting additives for substrate wetting and compatibilizer for industrial colorants


SILCO AF
anti-foam agents for pigment grinding,
OPV's and industrial coatings


SILCO PHOBE
hydrophobing agent for construction materials


The technical service team offers close cooperation with customers to provide immediate access
to optimised guiding formulations and to solve problems together as modifications of existing products
or as completely new developments.